Summa.
It's. Here. And the reality of it is - after dressing up all week long for work meetings, the weekend rolls around and this is about as fancy as I get. Cut offs make this girl oh-so-happy. Take that back,
these cut offs
make this girl oh-so-happy. I have them in every color. Perfectly distressed and worn in...no calisthenics necessary.
P.S. I shared this tee with my husband over email and he surprised me with it. It's kind of incredible, no? Also, he's kind of incredible, too.
Tangentially, I wore it to pick up some dinner items at our Whole Foods and I noticed I was getting weird looks forgetting what I was wearing. You could say our town is a scosh conservative. And by conservative I mean Lululemon or bust! One of these things does not belong...cough, cough. Anyhoo, it wasn't until I got to the register and one of the hipster baggers gave me a smirk when it dawned on me....oohhhh, como estas?!
So hey...it's Monday. Como estas bitches?!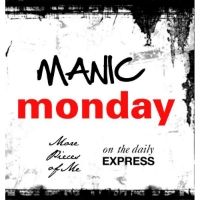 ...and check out today's
link up
!