Five Fall Faves: featuring Jennifer of Red Soles & Red Wine
Hi readers! I am so excited to be guest posting today for Johanna and sharing my Five Fall Faves. My name is Jen and I blog at
Red Soles and Red Wine
; I share daily doses of fashion from styling to look books and in all my looks I accessorize with my jewelry line
t+j Designs
. This month I'm a bit obsessed about reading my September issues; I get a lot of my style inspiration from
pinterest
and reading magazines. These three looks are some of my favorites and show some of the trends I'm loving; burgundy, luxe textures and leather looks.
Since I am a bit of a shopaholic I thought I would share my top Five Fall Favorite items I'm coveting:
1. Loving the leather trends especially motorcycle jackets and the pleated skirt. This skirt is perfect with a cozy sweater, some tights, and booties.
2. Burgundy is everywhere this fall! This bag is the perfect fall/winter bag and looks great with any outfit.
3. I love beautiful prints and brocade fabrics for fall. This skirt has the perfect amount of color and texture.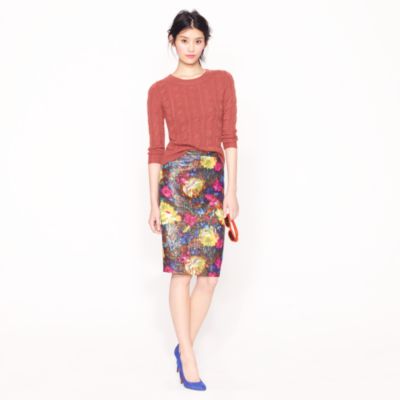 4. Hats are such a beautiful accessory to finish an outfit. I love the red mixed with the camel.
5. Feminine camouflage items are big for fall and I've already taken the first step and purchased this jacket!
And I cheated and wanted to show a 6th item from my jewelry line!
6. Luxe jewels - from spikes to pave crystals. Statement jewelry is the perfect accessory to any outfit.
t+j Designs necklace
Happy end of summer and welcome fall! Thank you Johanna for having me, so honored to be part of your blog. xoxo, Jen
Jen - loving all your choices, specifically the brocade skirt and your t+j necklace. Simply fab! xo